El Montsec inicia el proceso para la certificación como Destino Turístico Starlight
Presentación en Lérida de la iniciativa en la Delegación del Gobierno de la Generalitat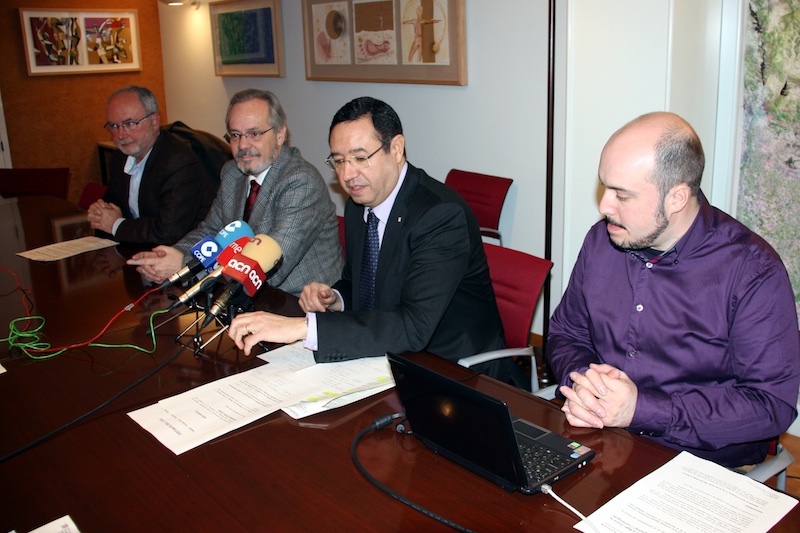 17 de Febrero de 2012. Presentación a los medios y jornada de trabajo con los representantes del Consorcio del Montsec.
La rueda de prensa contó con la presencia de Ramon Farré Roure, Delegado Territorial del Gobierno (Generalitat de Catalunya), el gerente del Consorcio del Montsec, Josep Vilajoliu, el coordinador de la Iniciativa Starlight, Cipriano Marín y Salvador Ribas, director científico del Consorcio del Montsec.
El Consorci del Montsec es un ente creado por el Gobierno de la Generalitat para aplicar un proyecto de desarrollo territorial en esta zona de Cataluña que, aprovechando sus aptitudes y potencialidades, genere un proceso de recuperación y mejora de su situación socioeconómica. El objeto del Consorci consiste en conseguir el desarrollo integrado del ámbito turístico, social y económico del Montsec. En esta iniciativa han venido participando, entre otras entidades, dieciséis municipios (once de La Noguera y cinco de El Pallars Jussà), los consells comarcals de La Noguera y de El Pallars Jussà, la Diputació de Lleida y varios departamentos de la Generalitat de Catalunya. A grandes rasgos, el Destino Turístico Starlight se corresponderá con los municipios del ámbito del Consorcio.
Los Destinos Turísticos Starlight se definen como lugares visitables con buenas condiciones para la contemplación de las estrellas y que están protegidos de la contaminación lumínica haciéndoles aptos para acoger iniciativas turísticas relacionadas con la contemplación del cielo como parte esencial de la Naturaleza.
Acceso a la web Consorcio del Montsec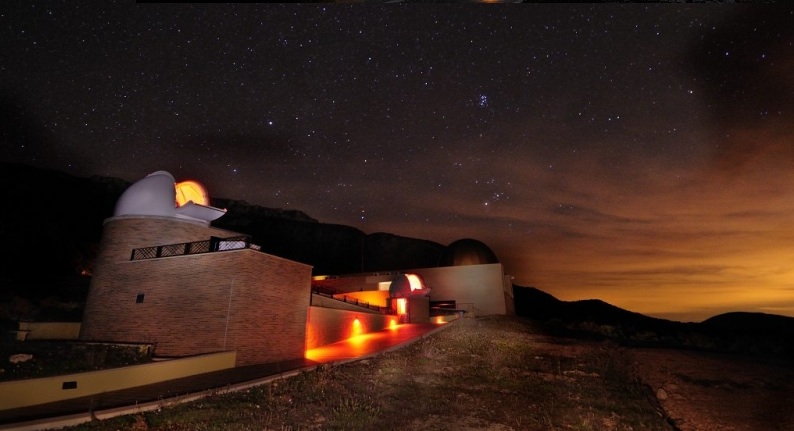 Parc Astronòmic Montsec
Last Updated on

Feb

19

2012
Sessions of the Starlight Conference 2007
More information
LOOKING FOR SOMETHING?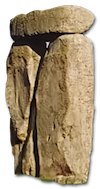 Starlight Initiative collaborates with the

PORTAL TO THE HERITAGE OF ASTRONOMY
Starlight Finder
Resources - Publications

Windows to the Universe

Starlight Tourism

Biodiversity at Night

World List of Dark Sky Parks

Starlight Cities

Laws and Regulations

Light Pollution Control

Global StarPark Network

Starlight Focal Points

Benchmark of Excellence

Portal to the Heritage of Astronomy
Starlight related links

Covenant of Mayors Related Initiative

Colaborating with IAU Working Group

IUCN Dark Sky Advisory Group

Dark Skies Awareness Project

Partnership Unesco-MaB


Member of the Knowledge Network


Instituto de Astrofísica de Canarias
| | | |
| --- | --- | --- |
| | The Starlight Initiative is designed as an international action in defence of the values associated with the night sky and the general right to observe the stars. It is open to the participation of all scientific, cultural, environmental, and citizens' organizations... | In partnership with: |
| | | |