UNESCO and the IAU signed a MoU
UNESCO and the IAU sign key agreement on Astronomy and World Heritage Initiative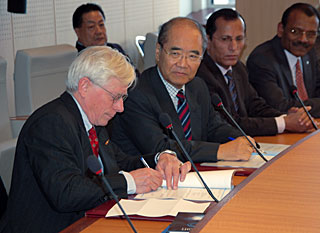 On 30 October 2008 the Director-General of UNESCO, Mr Koïchiro Matsuura, and the Secretary General of the International Astronomical Union (IAU), Professor Karel A. van der Hucht, signed a Memorandum of Understanding (MoU) formalizing their intention to expand their collaboration in the development of UNESCO's "Astronomy and World Heritage" thematic initiative.
Also present at the ceremony were Professor Clive Ruggles, Vice-President of the IAU Commission on the History of Astronomy, Professor David Valls-Gabaud, Deputy Director at the Observatoire de Paris and Mr Cipriano Marin, Coordinator of the Starlight Initiative (IAC).
Under the MoU, the two organizations will undertake joint activities focusing on establishing the link between science and culture by identifying properties related to astronomy located around the world, preserving their memory and saving them from progressive deterioration.
In his remarks, the Director-General noted that very few of the 878 World Heritage properties currently inscribed on the List had been nominated for their astronomical values. Referring to the World Heritage Committee's Global Strategy for a Balanced Representative and Credible World Heritage List, Mr Matsuura underscored the importance of diversifying the types of sites on the List, as well as the number of countries whose heritage featured in it. The work plan foreseen under this MoU would make an important contribution to these efforts.
Continuing, the Director-General expressed his gratitude for the IAU'S involvement in the development of the Astronomy and World Heritage initiative since 2003 and expressed his pleasure that this would be expanded through "this important framework for co-operation in the fields of research, education and awareness about our astronomical heritage", noting that its formalization on the eve of 2009, International Year of Astronomy was "most fitting". Speaking of his pride that UNESCO had been designated lead agency of the International Year by the 62nd UN General Assembly, Mr Matsuura noted that many important events were being co-organized with the IAU, the Year's facilitator. He looked forward to welcoming Professor van der Hucht and his delegation to UNESCO on 15-16 January 2009 for the inauguration of the International Year.
More information
Last Updated on

Aug

16

2011
More information
LOOKING FOR SOMETHING?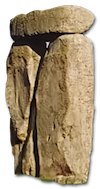 Starlight Initiative collaborates with the

PORTAL TO THE HERITAGE OF ASTRONOMY
Starlight Finder
Resources - Publications

Windows to the Universe

Starlight Tourism

Biodiversity at Night

World List of Dark Sky Parks

Starlight Cities

Laws and Regulations

Light Pollution Control

Global StarPark Network

Starlight Focal Points

Benchmark of Excellence

Portal to the Heritage of Astronomy
Starlight related links

Covenant of Mayors Related Initiative

Colaborating with IAU Working Group

IUCN Dark Sky Advisory Group

Dark Skies Awareness Project

Partnership Unesco-MaB


Member of the Knowledge Network


Instituto de Astrofísica de Canarias
| | | |
| --- | --- | --- |
| | The Starlight Initiative is designed as an international action in defence of the values associated with the night sky and the general right to observe the stars. It is open to the participation of all scientific, cultural, environmental, and citizens' organizations... | In partnership with: |
| | | |